Our Amazing Race
There are many reasons that I am thankful for a friend like Mrs. G. Among them are these: She is funny and frequently makes me laugh. She is a patient, calm, and thoughtful mother to her children, and I am constantly encouraged by her example. She loves arranging creative activities for her children.
Last fall we were privileged to receive an invitation to join their family in a game of
"Fear Factor."
(Click on the link to see pictures from that event.) Mrs. G. carefully selected and prepared the activities, literally scribbling ideas on a notepad in the middle of the night so she wouldn't forget them in the morning.
Yesterday the kids competed in Mrs. G's latest game: "The Amazing Race." I'd make a movie of this, but I cannot find a copy of the theme song that I can download to my computer. So please, play along and indulge me here:
Right-click on this link and select "Open Link in New Window."
Turn your volume up a bit so that you can hear the music before you continue reading this entry. If the music ends, feel free to click back and start it again.

The Amazing Race: Hometown Edition

Before the beginning of the race, the kids were paired up into teams of 3:

Team 1 Lainie and Addie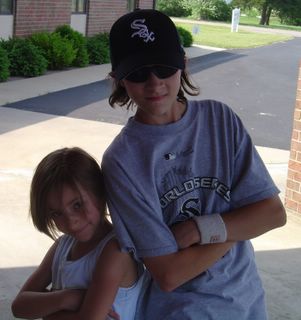 Team 2 Luke and Leila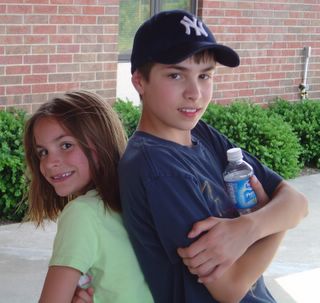 Team 3 Wil and Braden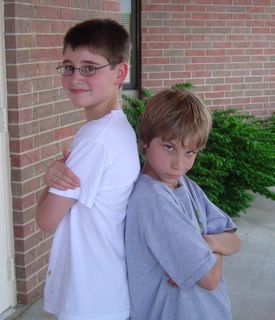 To begin the race, the teams received their first clue: race over a quarter mile to a designated location where they would find 3 "taxis" driven by the parents. Each taxi had a different departure time. There they'd receive the second clue.
The next clue directed each team to a local mini-golf course, where each team would need to play 9 holes of mini-golf before they could receive the next clue. I got to be the taxi driver for Braden and Wil, and I had the best time listening to their chatter as we drove to each location. They would speculate about what each task would be like, or panic when they thought they saw a competitor's taxi. I had a hard time not laughing out loud when Wil asked Braden, "Does this seat belt make me look big?"
The teams played their nine holes of golf faster than we'd expected. Later in the race we'd needed to come up with a couple of extra activities so that we wouldn't arrive at the Pit Stop too early. Braden even got a hole-in-one on the last hole!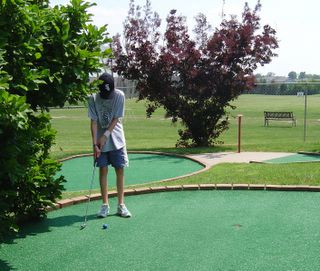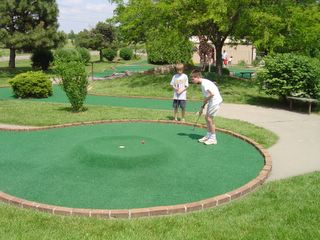 The most difficult thing about this race for me was the kids completed their tasks so quickly that I didn't have a chance to take many pictures!
The next clue took the kids to a local ice cream shop where they had to order an ice cream treat and eat it before they could receive the next clue.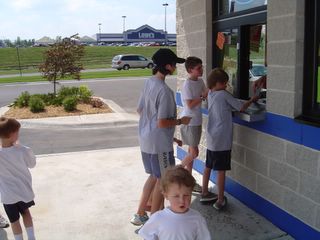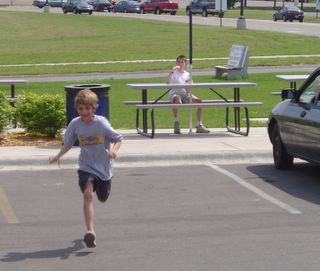 The next clue took the kids to a local elementary school where they had to walk a long balancing course before receiving the next clue. The kids completed this task before I had even parked the taxi. So - no pictures.
After completing the balancing act, the following clue directed the teams to a large department store. The teams were each given pictures of 6 items. They were to find each item in the store and see how much it cost. Using calculators, they needed to find the total cost of the items and show the correct total to their taxi driver before moving on. As my team pored over the pictures, Wil exclaimed, "I know exactly where that purse is! Oh! It's really cute!!"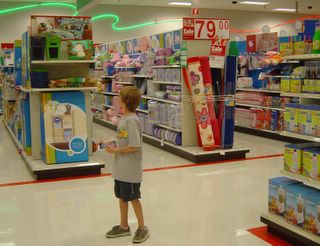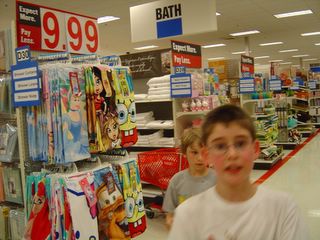 Next, it was off to a grassy location where the teams had to search through 100 plastic eggs to find an egg that contained a small piece of blue yarn.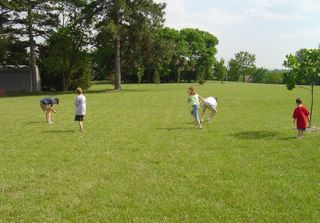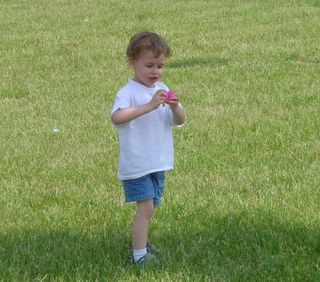 They found them in no time, forcing Mr. and Mrs. G to come up with another task on the fly. The person we had waiting at the "Pit Stop" was not due to be there for another 20 minutes. So while Mr. and Mrs. G prepared the spontaneous task, I kept the kids busy by having them pose for team photos and silly pictures. (This, by the way, was a technique I picked up from my grandmother. And you know what? It works. )
"Okay kids! Look panicked and afraid you'll lose!"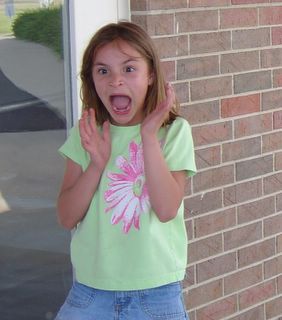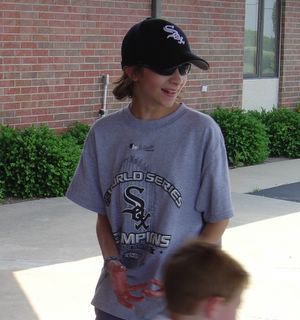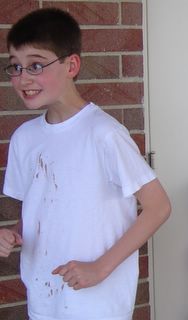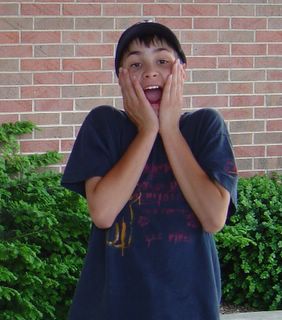 "Um. Okay. Uh. Handstands! Yeah! Now do handstands!"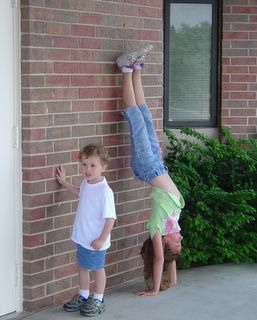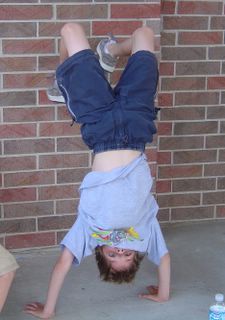 Luke got a little help.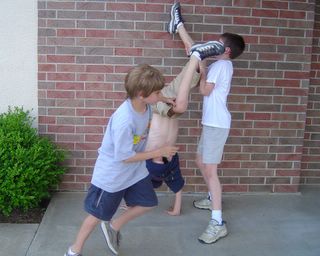 The final clue took us to a local park where teams had to search for
M.
, who would be this race's Pit Stop. It was a close race, with Teams 2 and 3 in a foot race to the finish. Team 3 narrowly edged out a victory.
When it was over, we were all hot, thirsty, and ready to head back to the G's home for pizza and soda. As we rode home, Luke told Braden, "We never thought your team would win because your mom always gets lost!"
I wanted to be outraged and incensed, but..... he's right! In fact, I did get lost at one point during the race, but the boys were so busy watching for other taxis they didn't notice. Whew!
After dinner, as we corralled the kids into their proper cars, Mrs. G's eyes gleamed as she told me her plans for the next "Amazing Race" - a two day event! I don't know how she does it. The ideas flowed from her like water. She's already planning a fall "Fear Factor" too.
We can hardly wait!