A Little Photo Heinz
Catch-up, that is.

Okay, maybe that joke only worked inside my head. But I'm too tired to go back and think of something clever.

We've spent past couple of days primarily doing school and unpacking the basement. We moved many, many things downstairs once the basement was completed, but we never actually put anything away. We pretty much carted things down, stacked them (maybe), and closed the doors of the rooms closest to avalanche. Yesterday we made tremendous progress in one room and it's almost clean and organized!

As a reward we managed to squeeze in a special trip to Chuck E. Cheese, and then today I took the car to the mechanic to be fixed. I had the boys all hyped up to ride home in the mechanic's shuttle, only to find out that they wouldn't be fixing our car after all.
Therefore - no ride home in the shuttle.
Brogan was pretty disappointed to hear this, as he apparently thought we would be riding home in a space shuttle. Poor guy.
I was disappointed because, to make a long, uncomfortable story very short, I was told to take the car to the mechanic to be fixed. When I described the problem, the guy walked over to the gas cap, clicked it shut, and said, "Problem solved. No charge!"
Rrrrrrrrr.

Anyway, today we get a little photo catch-up from the holidays.

While
M.
shoveled our driveway earlier this month, Braden managed to bury himself in the snow.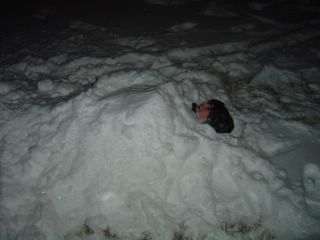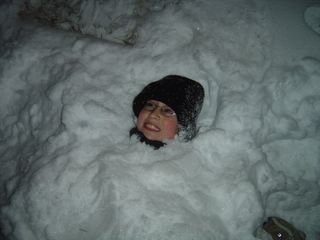 Colson as Batman, here, and Brogan as Spiderman. Happily, Brogan has stopped wearing the mask and is comfortable with his bruises. Thank you to all who sent him encouraging notes. He smiled at all of them!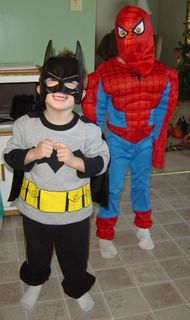 Over our Christmas holiday, the boys and their cousins treated us to several shows. Here's a picture of Braden and cousin J. Braden played "Jingle Bells" and "Joy to the World" and J. sang. Their duet was quite a treat!