Sledding
Friday morning, before the snow melted, the boys and I hit the local sledding hill. All the kids were back in school after the previous day's school closings, so we had the hill to ourselves. I like this hill because there's a large hill next to a small one, so there's something for kids of all ages. Braden flew down the large hill a couple of times, but the littles and I mostly kept to the smaller.
Brogan discovered that sliding down the hill is much more fun than climbing back up. After awhile he got the hang of carrying the sled back up, and setting it down so that it stayed and wouldn't slid, unmanned, down to the bottom of the hill. He and I slid down together, and crashed and rolled at the bottom. He was a good sport, though, and got up to tackle that hill again.
Colson went down with me once, and then he was done. Turns out he's very particular about his snowsuit accessories, and he was NOT happy with the hat and mittens I'd chosen for him that day. That seemed to overshadow sledding. He played with the snow at the top of the hill, and then spent the rest of the time playing inside the van. (Which was cozy and warm from sitting in the sunshine.)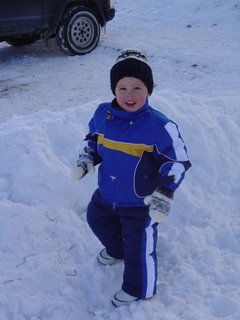 Braden had a great time, taking all the jumps and bumps that he could. He patiently helped Brogan up the hill when carrying his sled got too heavy for him.
We had a great morning, and are thankful we could hit the hill before it all melted away.