AWANA Bible Quiz
On Saturday Braden participated in the regional AWANA Bible Quiz. Area AWANA programs assemble teams of volunteers in grades 3-6 to answer 20 questions from their handbooks. It's a lot of work, and each year I'm amazed at the children's ability to recall the information.

A sample question for Book 4 might be:
What is the reference for the following verse "Therefore we were buried with Him through baptism into death, that just as Christ was raised from the dead by the glory of the Father, even so we also should walk in newness of life."
a. Romans 6:4
b. Romans 6:5
c. Romans 6:6

The kids have 5 seconds to decide on the correct answer, select the corresponding paddle, and then raise it high in the air for a judge to record their answer. Each correct answer is worth 10 points.

There were 2 rounds of 10 questions each. Braden and his partner J. did very well. In round one, Braden "quizzed out," meaning he answered all 10 questions correctly. He was the only boy to do so. In round 2, Braden missed one question, but J. quizzed out. I *think* he was the only boy to quiz out in round 2. Together, Braden and J. were the top scorers and earned a first place medal for Handbook 2.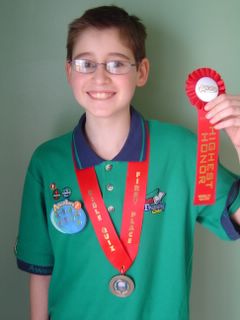 Our church's AWANA team took first place overall. The kids all did very well and should be proud of their efforts. It was a nerve-wracking experience, but they worked so hard to prepare and their work showed. They handled joy and disappointment with grace and class. I was so proud of them all.