So, I'm thinking I should maybe fold the clean laundry.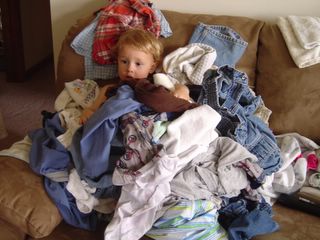 Someone posted the following quote on the
Well Trained Mind forums
this summer. I've no idea who originally wrote it or posted it; I wish I could give them credit. It's a send up of a speech by Aragorn in "Return of the King, " but it applies so accurately to my laundry pile this week.
"I see in your eyes the same mountain that would take the heart of me. A day may come when this laundry pile of mine overwhelms me. When I forsake clean towels and break all scoops of soap. But it is not this day. An hour of soiled shirts and dirty pants; when the laundry room comes crashing down. But it is not this day. Today, I fold! For all of the children in my house, and for my dear husband too, I tell you I will sit, and fold my laundry!"