Basement Updating
The drywall guys come tomorrow for what will, hopefully, be the last time. They are great guys, and they work very quickly, but we're eager for them to be done so we can move on with the basement. Once they got the drywall hung we were finally able to imagine what the basement will look like when it's finished and we're very excited!

We haven't been able to invite anyone over to our house while this project is going on, because there's no safe place for the kids to play down there. We're looking forward to having people over again.

Here's the west wall of the family room and the entrance to the hallway. This wall is under the kitchen and living room.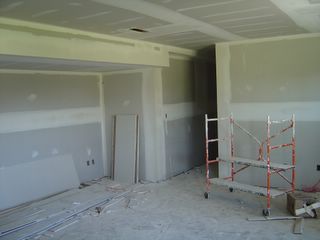 The first door down the hallway is the bathroom. Here's our shower so far.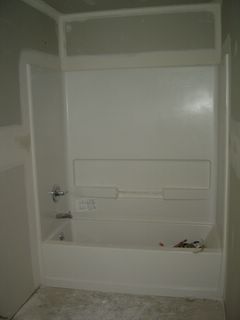 Further on down the hall is a room that we'll use as an office/guest bedroom. There's also a very large closet. Or a very tiny, windowless bedroom. It's all in your perspective, really.

Here's the family room again, looking at the east wall and windows that look out onto our backyard.